Post by michelb on Dec 6, 2018 19:40:31 GMT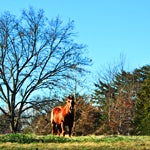 Concerning Posterization and Banding, I often see these terms used simultaneously; are they just two ways to say the same thing, or two different meanings ?
I often see the abrupt "steps" in color when trying to darken a too-bright sky, at which point I usually just replace the whole sky.
Also, why the DNGs as opposed to camera RAW ?
Banding is the visual effect you are describing. There are those steps instead of smooth gradients.

Posterization:
As described in that link, it's a similar visual effect which can be artistic and deliberate... or it can be the result of inadequate processing.
If you want to experiment with posterization, use the filter posterize and play with the number of steps you'll keep in your image.
You can play with black and white pictures, which have 256 levels (with color it's 256 for each rgb channel) or simply with a simple image of a black to white gradient.
If you choose 128 levels (7 bits), your histogram will show combing, but you may not perceive banding. Try with 64, 32, 16, 8 steps to compare and see how the effect becomes visible. If you are after an artistic effect to mimic some poster pictures with few levels, do the same. Usually 256 levels are ok even for black and white work. The issue is with relatively wide gradients (not details). Let's say you use curves to increase the contrast of the sky only (you stretch the brightness range while keeping the same number of original pixels; then banding will become visible. Sometimes, the banding will not appear after such an edit, but successive edits may reveal it later.
My advice with such pictures of sky is to make the most of the tonal edits in ACR or in 16 bits to start with.
Beware of denoising: on the contrary, you can add noise to mask a slight banding.
About DNG or camera RAW: no difference.
DNG files will be read and edited even with older PSE versions, recent Raw files may not be supported.